Humans of earth:
It is now time to fill everyone in on the GORY details of late…
*CATTLE DECAPITATION DRUMMER SEARCH!!!
As of March, 2006 Michael Laughlin has left Cattle Decapitation for personal reasons. Unfortunately, this leaves us in the predicament of trying to fulfill our upcoming tour obligations without a drummer. Therefore we are asking drummers that would be interested in filling in for our upcoming tours with Necrophagist and From a Second Story Window (with the potential of becoming a permanent member)to submit a recording(audio or video)of themselves playing either the song "No Future" off of our split with Caninus and/or "Reduced to Paste" from Humanure. Let it be clear that we are not looking for creative interpretations of the songs. A calypso version of "Reduced to Paste" is not necessary. We would like for prospective drummers to be able to play hit for hit what is being performed on the above recordings. Either you have it or you don't.
Sloppy double-bass or slow blasting is not acceptable.
Our live set will be approximately 35 minutes a night for the aforementioned tours, so applicants should be prepared for a barrage of learning over the course of the next five weeks. Basically, we need a human drum machine. We plan to have 5-6 brand new unreleased songs in our set in addition to various selections from the split with Caninus, Humanure, To Serve Man and Human Jerky for a total of around 11 songs. We will provide able prospects with recordings of the unreleased songs upon reception of successfully rendered versions of No Future or Reduced to Paste. A link to No Future and REDUCED TO PASTE can be found on our My Space site:
www.myspace.com/cattledecapitation
.
These tours start May 11th. You may reach us at
humanjerky2000@yahoo.com
or at our Myspace.com page with submissions.
*ALBUM TITLE ANNOUNCEMENT!
Cattle Decapitation is happy to announce "Karma.Bloody.Karma." as the title of the next record. NO, there is not any religious significance of the title. NO, the name does not imply that we're "crazy vegans" trying to push our lifestyle onto people (as a lot of gabbing internet idiots like to pigeonhole us as). It is simply about the "greatest natural disaster of all time," humanity, and revenge for its effect on this planet. This will be the most nihilistic, pessimistic and hateful record we've ever done lyrically, and musically you can expect, what one of our friends has said perfectly about it, a very "schitzophrenic" release! Imagine the Caninus split material, just longer in every way. Features guest appearances by Joey Karam(The Locust) and John Wiese(Sunn0))), Bastard Noise). Produced by Billy Anderson(Swans, Mr. Bungle, Melvins). Available June/July 2006!
Here's the goddamn track list:
1. Intro
2. Unintelligent Design
3. Success Is…(Hanging By the Neck)
4. One Thousand Times Decapitation
5. The Carcass Derrick
6. Total Gore
7. Bereavement
8. Suspended In Coprolite
9. Alone At The Landfill
10. Karma.Bloody.Karma.
11. The New Dawn
12. Of Human Pride & Flatulence
Here is the album cover: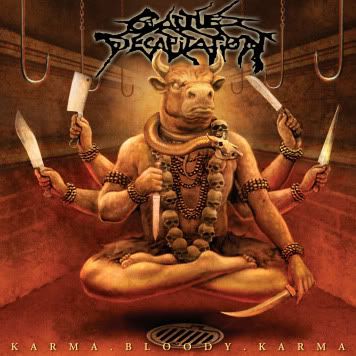 *NEW RHYTHM GUITAR PLAYER!
We have a new addition to Cattle Decapitation. A new second guitar player by the name of Kevin "Fetus" Bernier of L.A.'s Watch Me Burn/Fetus Eaters/Deadfood/Vomitcore Records. He's been an amazing friend of ours since the beginning and we're very excited to start playing live with him. We'll try our hardest to have him ready for the Necrophagist tour!
*5/5/2000 – REFLEKTIONEN MUSIQUE CD NOW AVAILABLE!
The long awaited destructo-ambient masterpeice by Cattle Decapitation's Travis Ryan and Daft Alliance's Nathan Berlinguette is NOW AVAILABLE!!! 40 minutes of electronic and organic apocalypse for fans of Sunn 0))), Lull, and Thomas Koner. Limited edition special packaging handmade and handnumbered of 100 copies will be available on a first come first serve basis!!! These copies will be available only via mailorder and a select few stores picked by Post Replica. Available only while supplies last. PAYPAL - $10 U.S. ppd/$12 international ppd to:
postrepmedia@yahoo.com
Check
www.myspace.com/552000
for sound clips and for more details on shows as they unfold!