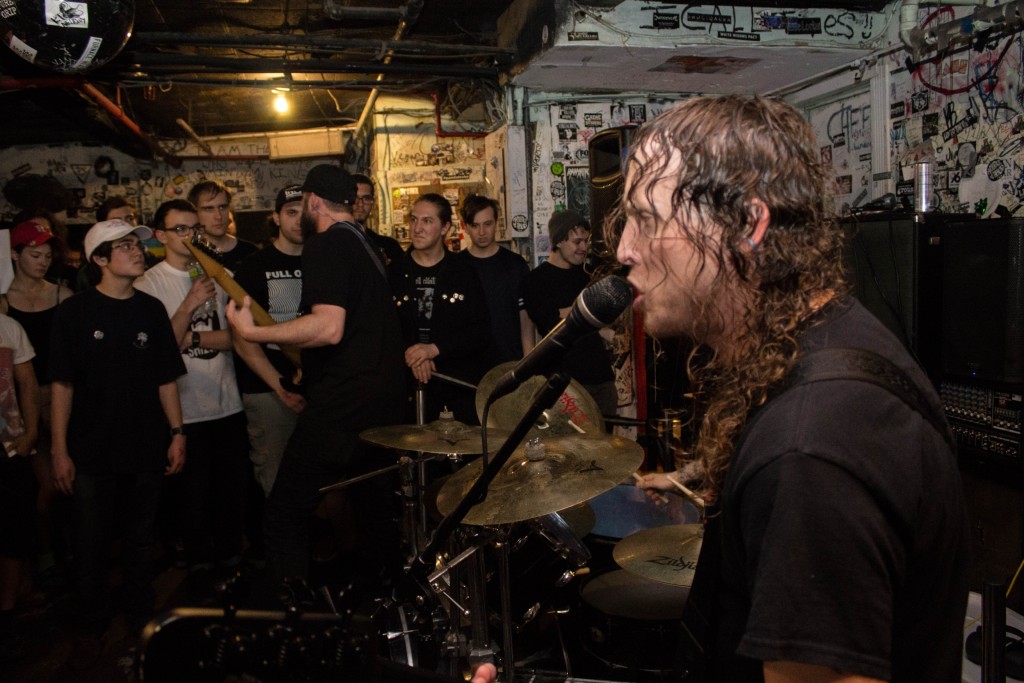 Philadelphia-based by-the-throat hardcore grinders DIE CHOKING will take their blistering live set to the audiences at Full Terror Assault fest this weekend in Cave-In-Rock, Illinois. The band will storm the main stage of the massive gathering alongside the likes of Lock Up, Rotten Sound, Dying Fetus, Cephalic Carnage, Sacred Reich, Shining, Master, and many others.
DIE CHOKING continues to tour in support of their debut LP, III, which has seen the band decimating audiences across North America and Europe steadily over the past year since the album?s release. The attack of the band?s first European tour early this year alongside Paris-based Department Of Correction will now repeat itself on US shores this Fall. DOC will head into the country mid-October to join up with DIE CHOKING for a week-and-a-half of tour dates down the East Coast, which comes to a finale at the massive The Fest 15 in Gainesville, Florida with the likes of Fucking Invincible, Coke Bust, Braid, Night Birds, and dozens more. The tour is preceded by a rash of DIE CHOKING one-off shows over the coming weeks.
Decibel Magazine calls the band, ?the energetic, Hellenistic philosophy-obsessed future of grind,? offering, ?Just don?t think that DIE CHOKING?s fondness of brevity is another example of 21st Century grind kid ADD? the band takes pride in the arrangements, narrative and atmosphere of whirlwinds?? Stereogum issued, ??III?s not all flying spittle and popping veins. DIE CHOKING channels the intensity with a subtle songwriting intelligence that begins to emerge after the initial shock of their impact wears off.? Noisey notes how DIE CHOKING, ?has grown a big reputation in short time for its unrelenting, caustic brand of socio-politically conscious, anti-authoritarian punk/metal played at tempos that come close to breaking the sound barrier, issuing of the LP, ?III contains the band?s most confrontational, intense, and crust-fueled sounds yet while exploring heady philosophical concepts.? Bloody Disgusting praised the devastation of the album?s, ?pure sensory assault, featuring blistering drums, raging vocals, and a wall of distorted guitars, all combining to ensure maximum face melting power,? and Cvlt Nation exclaims, ?An all-out brutality fest will take place in your brain once you hear this album! From the very first to the last moment of this album, this band wants to punish, and they do a pummeling job of just that!?
DIE CHOKING Tour Dates:
8/26/2016 Moody?s Point ? Bloomington, IL w/Kelut
8/27/2016 Full Terror Assault ? Cave-In-Rock, IL w/ Rotten Sound, Dying Fetus, Cephalic Carnage, Organ Dealer
8/28/2016 Voodoo Brewery ? Meadville, PA w/ Organ Dealer
9/01/2016 Rake?s End ? Cincinnati, OH w/ True Of All Death
9/02/2016 Drkmttr ? Nashville, TN w/ Forest of Tygers
9/03/2016 Rotten Fest ? Tallahassee, FL w/ Night Witch, Abacus
9/04/2016 The Foundry Coffee ? Savannah, GA
10/09/2016 Pi lam ? Philadelphia, PA w/ Noisear, Mother Brain, Bea$ters
10/12/2016 Sidebar ? Baltimore, MD w/ Gadget, Vermin Womb
10/20/2016 Good Weekend ? Allentown, PA w/ Department Of Correction, Carved Up
10/21/2016 Shred Shed ? Philadelphia, PA w/ Department Of Correction
10/22/2016 Silent Barn ? New York, NY w/ Department Of Correction, Pyrrhon
10/23/2016 Gallery 5 ? Richmond, VA w/ Department Of Correction, Burn/Ward
10/24/2016 Riffhouse Pub ? Virginia Beach, VA w/ Department Of Correction, Amara
10/25/2016 Slims ? Raleigh, NC w/ Department Of Correction, Old Codger
10/26/2016 The Station ? Charlotte, NC w/ Department Of Correction
10/27/2016 New Brookland Tavern ? Columbia, SC w/ Department Of Correction
10/28/2016 529 ? Atlanta, GA w/ Department Of Correction
10/29/2016 Rain Dogs ? Jacksonville, FL w/ Department Of Correction
10/30/2016 The Fest 15 ? Gainesville, FL w/ Department Of Correction, Fucking Invincible, Coke Bust, Braid, Night Birds, more